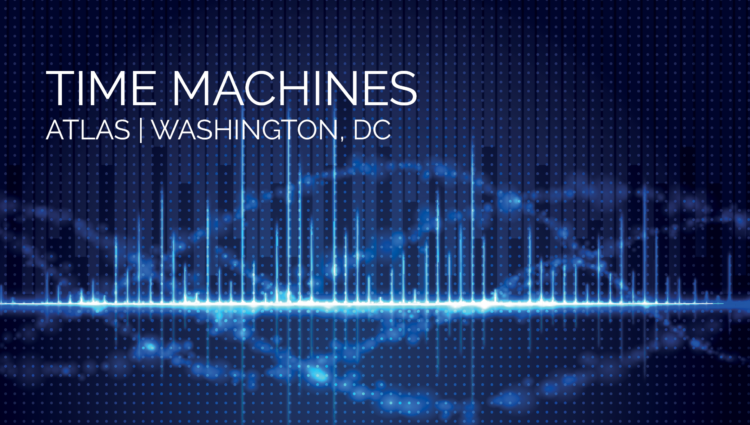 Time Machines
Pershing's Own Chamber Players
The works on this concert all celebrate the alluring mechanics of time in chamber music, highlighting the flawless synchronization of teams of musicians to create amazing sounds. The program celebrates American talent and musical innovation.
Thu / Sep 14 / 7:30 pm
This event requires Registration
This performance is free and open to the public, but registration or tickets are required.
Free Tickets
Location
ATLAS Performing Arts Center, Lab II Theater | Washington, DC
1333 H St NE Washington, DC 20002
About this Venue
(May include COVID-19 information)
Program
Run-On (2010) / Allison Loggins-Hull
SFC Doug O'Connor, soprano saxophone
SSG Chance Stine, soprano saxophone
Perpetuum (2020) / Christopher Prosser (b. 1978)
SSG Jenna Taylor, flute
SSG J.J. Milakovich, clarinet
SFC Lisa Park, violin
SSG Erica Schwartz, viola
MSG Ben Wensel, cello
SFC Dan Campolieta, piano
Hollows (2021) / David Clay Mettens (b. 1990)
SFC Ellie McGinness, flute/piccolo
MSG Marty Gold, clarinet/bass clarinet
MSG Matt J. Evans, violin
SFC Lisa Park, violin
SSG Erica Schwartz, viola
MSG Ben Wensel, cello
SFC Dan Campolieta, piano
SSG Brian Blume, percussion
SFC Doug O'Connor, conductor
Prized Possessions (2014-15) / Viet Cuong (b. 1990)
Ii. Beggar's Lace
SSG Salvador Flores, soprano saxophone
SFC Doug O'Connor, alto saxophone
SSG Chance Stine, tenor saxophone
SFC Matt T. Evans, baritone saxophone
Intermission
Fratres (1977) / Arvo Pärt (b. 1935)
SSG Audrey Yu, oboe
SSG Salvador Flores, soprano saxophone
SSG J.J. Milakovich, clarinet
MSG Marty Gold, clarinet/bass clarinet
SSG Jacob Wiggins, french horn
SSG Emerson Miller, french horn
SSG Tom Reynolds, bassoon
SFC Patti Morgan, bassoon
SSG Brian Blume, percussion
SFC DJ Palmire, conductor
…a tiny dream… (2010) / Anthony R. Green (b.1984) - animation by Sally Jay Sparrow
SSG Rachel Minto, flute/alto flute
MSG Marty Gold, clarinet/bass clarinet
SSG Jan Knutson, guitar
MSG Regan Brough, contrabass
SFC Dan Campolieta, piano
Performed in gratitude to the fivebyfive ensemble in Rochester, NY
Big Things (2014) / Michael Laurello (b.1981)
SSG Jan Knutson, electric guitar
MSG Regan Brough, electric bass
MSG Dan Roberts, piano
SFC DJ Palmire, vibraphone
SSG Brian Blume, percussion
SFC Doug O'Connor, conductor
Extras
Program Notes

Perpetuum 

Perpetuum is the Latin word for perpetual, which means never ending or changing. Another definition is occurring repeatedly; so frequent as to seem endless or uninterrupted. This is one of the adjectives used by Pseudo-Dionysius the Areopagite, the fifth century Greek theologian and philosopher, to describe the Seraphim in his work "Celestial Hierarchies," which is a description of the ordering of the angels, the Seraphim being the highest order, closest to God. My piece does not try to mimic the sound of the Seraphim, but draws inspiration from the author's description of a heavenly body suspended in eternal perpetual motion.


Prized Possessions

With its two contrasting movements, Prized Possessions attempts to address the human phenomenon of taking things for granted by sending musical material through various repetitions and expressive treatments. The piece focuses on balancing fleeting, quickly vanishing ideas with other material that's allowed to obsessively linger until almost no longer welcome.


Fratres

Fratres (Latin for "Brothers") was composed in 1977 and belongs to the many works (Für Alina, Cantus, Tabula rasa etc.) that were created explosively after recognising the principles of tintinnabuli music. Fratres was initially composed as three-part music without fixed instrumentation that can be performed with various instruments. The composition was premiered in 1977 by the composer's like-minded friends from the early music group Hortus Musicus.

Fratres also exists as three-part music with added variations for the solo instrument. The first among these was written for violin and piano and was commissioned by the Salzburger Festspiele festival. It was premiered in 1980 at the festival, performed by Gidon and Elena Kremer to whom this version is dedicated.

Structurally, Fratres consists of a set of variations separated by recurring percussion motifs (in the case of instrument settings without percussion, the drum-like sound is imitated). Throughout the composition we can hear a recurrent theme that starts each time in a different octave. We can clearly recognise three voices: two melodic lines mainly moving stepwise and the central tintinnabuli voice moving on the notes of minor triad. These are accompanied throughout the entire composition by a resounding low drone. The technically demanding part of the solo instrument was added to the recurring three-part theme as a new layer, placing even more emphasis on the contrast between the changing and constant elements. Characteristically for Arvo Pärt, the apparent simplicity of the composition is governed by strict mathematical rules that determine the movement of voices, length of the melody and phrases, time signature alternations and so much more.

Both versions can be performed by various instrument combinations.


…a tiny dream…

In Grey by Ani Difranco, she sings: "I smoke and I drink. And every time I blink, I have a tiny dream." While this song is actually very depressing, this particular line stands out to me for many reasons. During summer 2010, I spent time in London, Greenwich, Frankfurt, Seoul, Daejeon, Busan, Fukuoka, Okayama, Naoshima, Tokyo, Kyoto, Leiden, Amsterdam, and Den Haag. After returning to the states, I started thinking about other places to where I've traveled. For me, the more time that passes between the end of a journey of an unknown place and the present, the more those memories seem like tiny dreams. In fact, after a while, you can blink and have mini-dreams about past experiences that are now so distant that they seem to have never existed, like a dream. This piece is music written to pay tribute to the existence of our past precious moments, as well as those future moments that will eventually become our tiny dreams. ... a tiny dream ... was composed in 2010, with a version commissioned by and specifically created for fivebyfive completed in 2020.


Big Things

The original version of Big Things was one of the first pieces I composed using a process of recording and improvisation, rather than traditional notation. I started with a rhythmic pattern outlined by an electric guitar (played by marimba in this new version for icarus Quartet), and then improvised other instruments over the top. I recorded most of the instruments myself, section by section, editing each part in my recording software as I went. With this method, I felt free to experiment without worrying about what it might look like on the page. There were a few happy accidents, too: In one section, I made a copy-paste error, and the music ended up displaced by a sixteenth-note. It sounded interesting when I listened back, so I kept it. Once I was satisfied with the recording, I transcribed the music and created the score and parts for live performance. When I played the finished recording to a friend of mine, she said it sounded like "big things…big life things." I'm not sure what she meant by that, but it felt right, so I went with it. The updated version of the piece, arranged for two percussionists and two pianists, is dedicated with love to icarus Quartet."