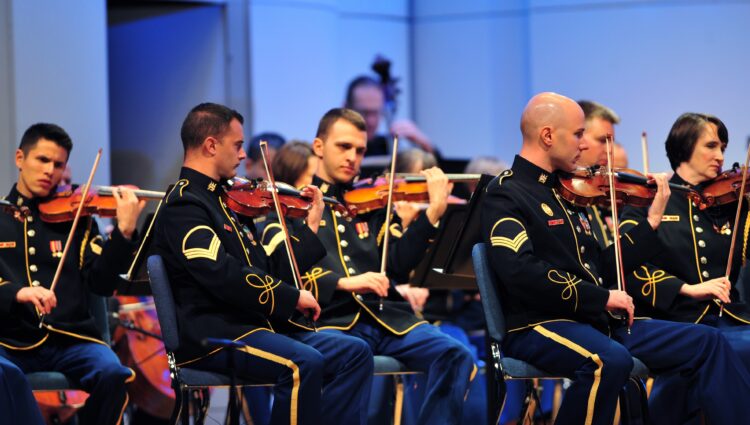 Fall Friday Music Series with David Kim
The U.S. Army Strings
Summer's Last Shadow: Simon, Vivaldi, Piazzolla, Schubert, and Elgar featuring David Kim, Concertmaster of Philadelphia Symphony Orchestra
Fri / Sep 8 / 12:30 pm
This event requires Registration
This performance is free and open to the public, but registration or tickets are required.
Free Tickets
Location
Gonda Theatre at Georgetown University | Washington, DC
The Davis Performing Arts Center, Old N Way, Washington DC 20057
Program
The U.S. Army Strings are conducted by
Lieutenant Colonel Randy Bartel
"Loop" / Carlos Simon
Concerto No. 4 in F minor, Op. 8, RV 297, "Winter" (L'inverno) from The Four Seasons / Antonio Vivaldi
Featured soloist, David Kim
I. Allegro non molto
II. Largo
III. Allegro
"Verano Porteño" ("Buenos Aires Summer") from Las 4 Estaciones Porteñas (The Four Seasons of Buenos Aires) / Astor Piazzolla
Featured soloist, David Kim
String Quartet No. 14 in D minor, D 810, "Death and the Maiden"/ Franz Schubert
I. Allegro
Serenade for Strings in E minor, Op. 20 / Edward Elgar
I. Allegro piacevole
II. Larghetto
III. Allegretto
Extras
Notes about the Program

G.U. Professor Simon's frenetic and cyclic "Loop," commissioned by the New York Philharmonic in 2020, evokes the composer's feelings about the mandated stay-at-home order during the pandemic of COVID-19 in a musically "never-ending quarantine loop."

Vivaldi's "Four Seasons" depicts the different seasons in a pastoral setting. Vivaldi's served as inspiration for Piazzollas's own expression of the "Four Seasons." Piazzolla wrote his pieces as tangos for cabaret band. Between 1996-98, Russian composer L. Desyatnikov rearranged Piazzolla's pieces for solo violin and string orchestra, tipping his hat to Vivaldi by quoting motives from the original "Seasons." Since Piazzolla and Vivaldi lived in different hemispheres, Desyatinikov cleverly added bits of Vivaldi's Winter to Piazzolla's Summer.

Schubert's "Death and the Maiden" string quartet is famous for its emotional intensity and passionate melodies. Schubert was battling syphilis at the time of writing the piece. Despite knowing his end was near, he continued to write tuneful, gemutlich music for which he was known.

Elgar's Serenade for Strings in E minor is an early work by the composer and was completed for his wife on the occasion of their third wedding anniversary. It is the first work with which the composer professed himself happy, writing to a friend of the movements, "I like em' (the first I ever did)". The first movement is a pleasantly lilting "cradle song"; the second has a heartfelt,
elegiac melody sung by the first violins; the third returns to the spirit of the opening.
David Kim Biography

Violinist David Kim was named Concertmaster of The Philadelphia Orchestra in 1999. Born in Carbondale, Illinois in 1963, he started playing the violin at the age of three, began studies with the famed pedagogue Dorothy DeLay at the age of eight, and later received his bachelor's and master's degrees from The Juilliard School. Highlights of Mr. Kim's 2022-23 season include multiple appearances as soloist with The Philadelphia Orchestra in Bach Brandenburg Concertos (McGegan) in Philadelphia, Kreisler (Denéve) at the Bravo! Vail Festival in Colorado, and the Tchaikovsky Concerto (Luisi) at the Saratoga Performing Arts Center; teaching/performance residencies at Georgetown University, The Juilliard School of Music, and the Australian National Academy of Music in Melbourne; solo appearances with orchestras, recitals, masterclasses, and speaking engagements across the United States; and festival appearances at Festival Napa Valley, Mainly Mozart (San Diego), and the Prague Summer Nights Festival in the Czech Republic. He will continue to appear as concertmaster of the 9-time Emmy Award winning All-Star Orchestra on PBS stations across the USA and online at the Khan Academy. Mr. Kim's first book was released in 2022: The Audition Method for Violin, published by GIA Publications.
This long-awaited collection of standard orchestral excerpts walks the reader through each work with David's suggestions on execution, audition strategy, bowings and fingerings.

Mr. Kim is a frequent touring guest of famed modern hymn writers Keith and Kristyn Getty at venues such as the Grand Ole Opry House in Nashville, The Kennedy Center for the Performing Arts, and Carnegie Hall. Mr. Kim serves as Distinguished Artist at the Robert McDuffie Center for Strings at Mercer University in Macon. He frequently serves as an adjudicator at international violin competitions such as the Menuhin and Sarasate and each season presents masterclasses at schools across the United States.

Mr. Kim has been awarded Honorary Doctorates from Eastern University in suburban Philadelphia, the University of Rhode Island, and Dickinson College. His instruments are a J.B. Guadagnini from Milan, Italy ca. 1757 on loan from The Philadelphia Orchestra and a Francesco Gofriller ca. 1735. Mr. Kim exclusively performs on and endorses Larsen Strings from Denmark.

Mr. Kim resides in a Philadelphia suburb with his wife Jane and daughters Natalie and Maggie. He is an avid golfer and outdoorsman.