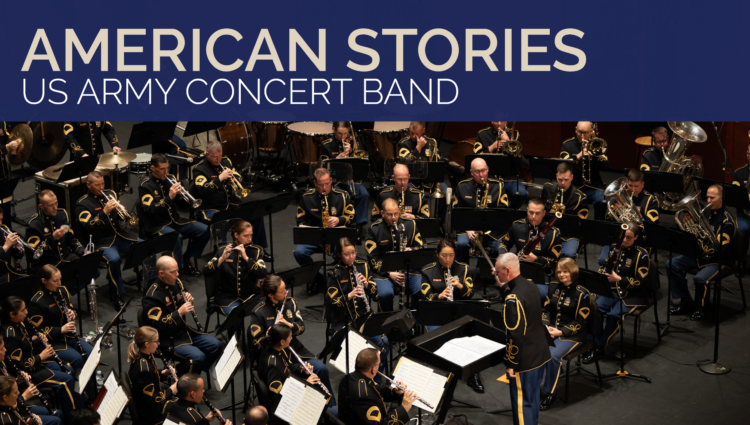 American Stories
The U.S. Army Concert Band
This program features pieces by American composers inspired by themes, events, or locations from the composers' perspectives. Enjoy the exploration of cultural perspectives, experiences, and stories from some of our most celebrated music composers.
Fri / Jul 21 / 7:30 pm
This event requires Registration
This performance is free and open to the public, but registration or tickets are required.
Register
Location
Rachel M. Schlesinger Concert Hall and Arts Center | Alexandria, VA
4915 E Campus Dr, Alexandria, VA, 22311
About this Venue
(May include COVID-19 information)
Program
This evening's conductors:
COL Bruce R. Pulver, leader and commander
Dr. Emily Threinen, guest conductor

Featuring participants in the 2023 Conductors Workshop
Let Freedom Ring and National Anthem / Nowlin, arr. Smith and Kirby
Rocky Point Holiday / Nelson       
Variations on "America" / Ives, orch. Schuman, trans. Rhoads
Dr. Tina DiMeglio, University of South Florida
One Life Beautiful / Giroux
Cody Ray, University of South Carolina                  
American Guernica / Hailstork, ed. Levine
Weston Lewis, University of Texas at Austin
The Solitary Dancer / Benson
Meijun Chen, University of Alberta    
Alegria / Sierra, arr. Scatterday
Anthony Morris, University of Georgia
Postcard / Ticheli    
Mysterium / Higdon        
AMEN! / Simon
Extras
Learn about the Conductors Workshop
Program Notes

Rocky Point Holiday (1969) by Ron Nelson
Commissioned in 1968 by the legendary American Band Director Dr. Frank Bencriscutto, this composition was inspired by the amusement park on the Narragansett Bay shore of Warwick, Rhode Island, Rocky Point Park. The park was open from the 1840s through 1995. The piece is virtuosic and represents excitement and joy one might imagine while immersed with hundreds of other enthusiastic people at an amusement park.

Variations on "America" (1891/1968) by Charles Ives, orch. Schuman/trans. Rhoads
Originally composed in 1891 for organ, Variations on "America" is an arrangement of the traditional tune, My Country, 'Tis of Thee, and was the de facto anthem of the United States in the late 19th century. Ives was only 17 years old when he created the organ variations. The sentiment of the piece is witty and irreverent, perhaps typical of a humorous young man. According to his biographers, the piece was played by Ives in organ recitals and in churches in Danbury and Brewster, New York, during the same year. It is believed that his father would not let him play the pages which included canons in two or three keys at once, because they were "unsuitable for church performance, as it might upset the elderly ladies and make the little boys laugh and get noisy!"

One Life Beautiful (2010) by Julie Giroux
Commissioned by another legendary American Band Director Ray Cramer and his family, the piece was created in memory of their daughter Heather Cramer Reu for her "one life beautiful." The title itself is a double-entendre which in one sense is referring to the person this work is dedicated to as in "one life" that was beautifully lived; the other sense is a direct observation concluding that having only one life is what makes life so sacred, so tragic, and so very precious.

American Guernica (1982/2021) by Adolphus Hailstork, ed. By Brent Levine
Composed in remembrance of the September 15, 1963, fire-bombing of the 16th Street Baptist Church in Birmingham, Alabama. This was a racially motivated bombing that killed four young girls who were attending Sunday school: Carol Robertson, 14, Addie Mae Collins, 14, Cynthia Wesley, 14, and Denise McNair, 11, and injured twenty-two others. The elegy for this tragedy was delivered by Dr. Martin Luther King. The work's title refers to the famous mural by painter Pablo Picasso, which depicts the bombing of the Basque village Guernica by Nazi Germany and Fascist Italian warplanes on April 26, 1937, a tragic slaughter of mainly women and children. Hailstork's score employs spatial notation and extended techniques to recount the bombing, outrage, and aftermath of the American tragedy.

The Solitary Dancer (1969) by Warren Benson
Created in 1969, this piece is inspired by the quiet, poised energy that one may observe in a dancer in repose–a dancer alone with their inner music. It is noted that the American composer was inspired by sonic representations of energy and ideas that were not already present in other pieces. A quote from Mr. Benson in the 1970s: "There just wasn't a piece of music that was fast and exciting and quiet. Like when a group of people get together and whisper, there is a lot of intensity and excitement, but it never gets loud. It never goes anywhere in that sense. It may bubble and cook but it never really blows the lid off. There are a lot of situations in life like that—just quiet moments, and that is what inspires this composition." 

Alegria (1996/2010) by Roberto Sierra (trans. Mark Davis Scatterday)
Originally commissioned for the Houston Symphony Orchestra in 1996, Alegría (happiness) was inspired by the playful mood and compound meter pattern often found in music from Central and South America, as well as the Caribbean. Out of a simple pulse and simple folk-like tunes evolve a complex web of harmonies and rhythmic interactions that oftentimes dissolve into a fast vortex of sound, to resume again to the initial playful mood. The harmonies too follow a similar path of evolution: from simple consonances to colorful dissonances.

Postcard (1991/1993) by Frank Ticheli 
Commissioned by another legendary American Band Director H. Robert Reynolds, this piece was created in memory of Reynolds's mother, Ethel Virginia Curry. Reynolds requested not an elegy commemorating her death, but a short energetic piece celebrating her life. What was created was a brief "postcard" of a musical reflection of her character–vibrant, whimsical, and succinct.

Mysterium (2002/2011) by Jennifer Higdon
Originally commissioned in 2002, this composition is a tribute to the wonderful mystery of how music moves us. Perhaps it is the unexplainable that creates such magic, for both the performer and the listener, but there is no denying the incredible power of a shared musical experience. The piece was originally composed for chorus and the American composer created a wind band version of the sacred work.

AMEN! (2017) by Carlos Simon
Commissioned in 2017 by the University of Michigan Symphony Band, this piece is a homage to the composers' family's four-generational affiliation with the Pentecostal church in America. The composer states: "My intent is to re-create the musical experience of an African American Pentecostal church service that I enjoyed being a part of while growing up in this denomination. Pentecostal denominations, such as Church of God in Christ (C.O.G.IC.), Pentecostal Assemblies of God, Apostolic, Holiness Church, among many others, are known for their exuberant outward expressions of worship. The worship services in these churches will often have joyous dancing, spontaneous shouting, and soulful singing. The music in these worship services is a vital vehicle in fostering a genuine spiritual experience for the congregation.

The three movements in AMEN! are performed without break to depict how the different parts of a worship service flows into the next. In the first movement, I imagined the sound of an exuberant choir and congregation singing harmoniously together in a call-and-response fashion. The soulful second movement quotes a gospel song, I'll Take Jesus For Mine, that I frequently heard in many services. The title, AMEN!, refers to the plagal cadence or "Amen" cadence (IV-I), which is the focal point of the climax in the final movement. Along with heavily syncopated rhythms and interjecting contrapuntal lines, this cadence modulates up by half step until the piece reaches a frenzied state, emulating a spiritually heightened state of worship."

The Stars and Stripes Forever (1896) by John Philip Sousa
Composed in 1896, Sousa consistently stated that this march was divinely inspired and was born of homesickness. In his autobiography, Marching Along, he provides the details of its creation after he had received a cablegram in Italy that his manager, David Blakely, had died: "Aboard the Teutonic, as it steamed out of the harbor on my return from Europe in 1896, came one of the most vivid incidents of my career. As I paced the deck, absorbed in thought, suddenly I began to sense the rhythmic beat of a band playing within my brain. It kept on ceaselessly, playing, playing, playing. Throughout the whole tense voyage, that imaginary band continued to unfold the same themes, echoing and re-echoing the most distinct melody. I did not transfer a note of that music to paper while I was on the steamer, but when we reached the shore, I set down the measures that my brain-band had been playing for me, and not a note of it has ever changed. The American composition is known the world over as The Stars and Stripes Forever and is probably my most popular march."