Featured Ensembles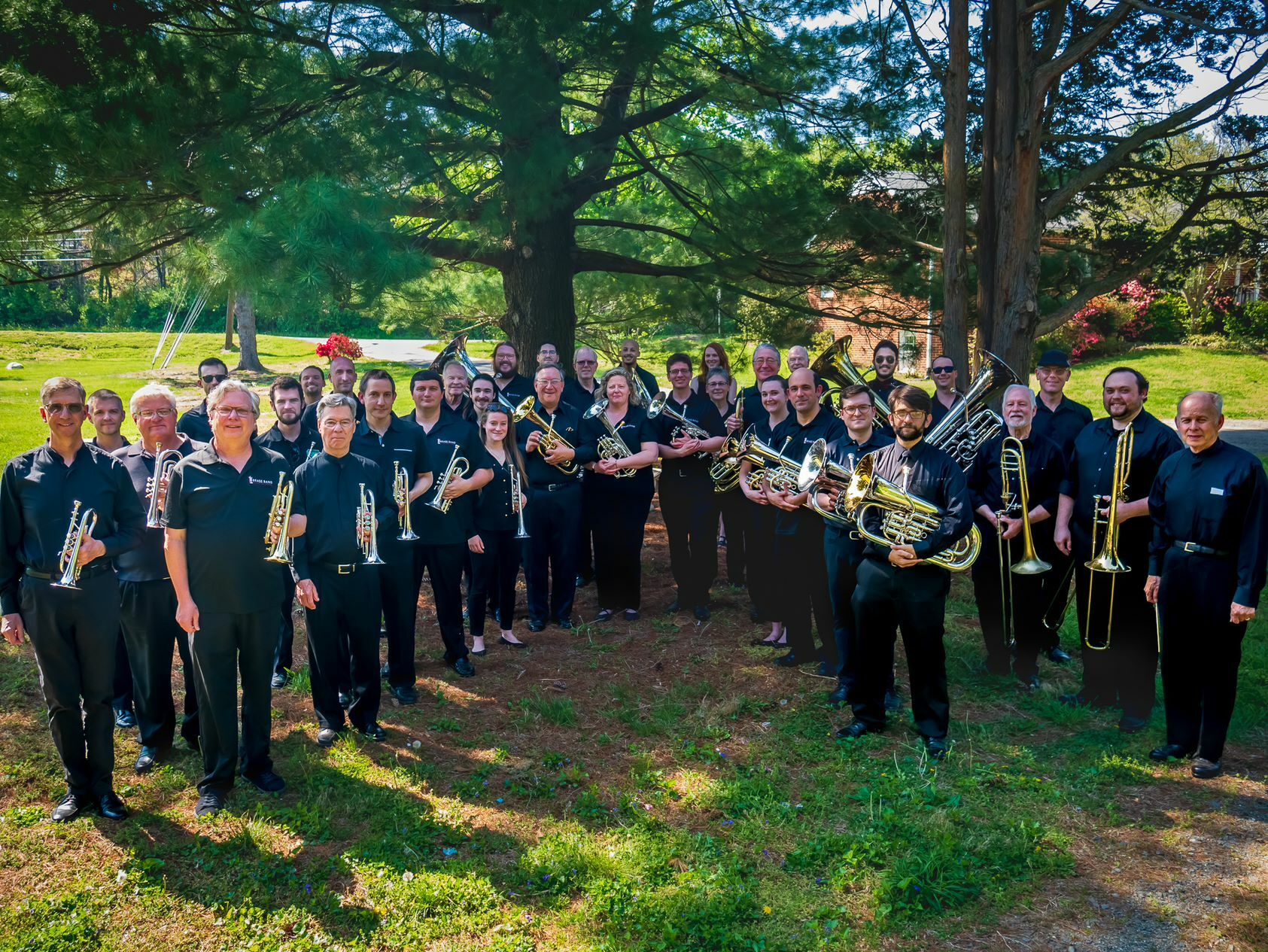 The Brass Band of Northern Virginia was founded in November 2019 by a group of friends who shared a passion for British-style brass band music and a desire to grow an active and sustainable organization. The band's mission is to share high-quality performances consisting of both the established brass band repertoire and new and innovative brass band programming for the enjoyment and education of the community and to participate in the rich brass band contesting tradition.
Mirroring the organization of the famous brass bands of the UK and Europe, the band draws players from a wide variety of professional and avocational musical backgrounds in surrounding Virginia, Washington DC, and Maryland metropolitan areas. Our music director is world-renowned Euphonium soloist Dr. Brian Bowman. The Brass Band of Northern Virginia staged community outreach concerts, masterclasses for student brass players, chamber music performances, and published recordings, all in our first three years.

In 2020 The BBNV placed in the Cory Band's International virtual Brass Band contest with its submission of "The Artist's Way" of Modest Mussorgsky's "Pictures at an Exhibition", Philip Wilby's "Lowry's Sketchbook" and Anthony Plog's Trumpet Concerto No. 3. They also won most entertaining video in their class. This year the band has an active schedule of 10 separate programs in the DC and Northern Virginia area.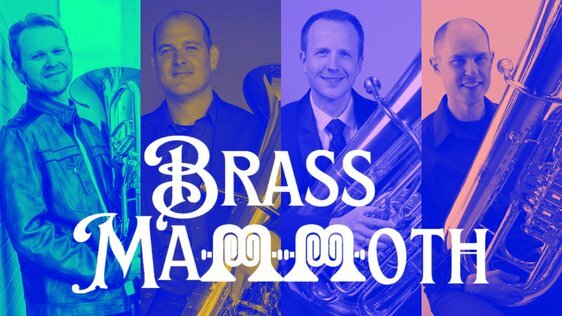 Brass Mammoth was founded in 2022 to pursue a high level of musicianship in a fun, flexible, and inventive way. The group seeks to perform and expand the standard euphonium-tuba quartet repertoire while branching out into world music, jazz, folk, and other styles. The members of Brass Mammoth bring a wealth of experience to the group as performers and educators. Collectively they have released 15 solo and chamber albums, won first place in dozens of solo competitions, appeared as soloists around the world, and have performed with leading ensembles including the Brass Band of Battle Creek, the River City Brass Band, and the symphony orchestras of Los Angeles, Detroit, Pittsburgh, Toledo, Grand Rapids, San Antonio, West Virginia, and Tulsa. Their diverse backgrounds include composing and arranging, jazz performing, conducting, studio work, and adjudicating. They each hold a doctorate in music performance and are active as university professors.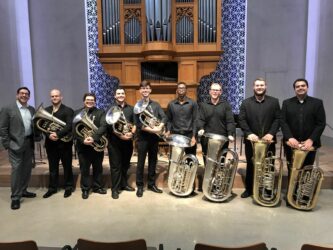 The Florida State University Tuba and Euphonium Octet is comprised of outstanding musicians from the FSU tuba and euphonium studio under the direction of Dr. Justin Benavidez. This group maintains an active schedule of performances on campus each semester and has presented feature performances at the Southeastern Regional Tuba and Euphonium Conference, at The United States Army Band Tuba and Euphonium Workshop, and at the International Tuba and Euphonium Conference. Former and current members are winners of the ITEC Arnold Jacobs Mock Audition competition, finalists and winners of the International Leonard Falcone Festival Solo Competition, and hold professional performing and teaching positions across the United States.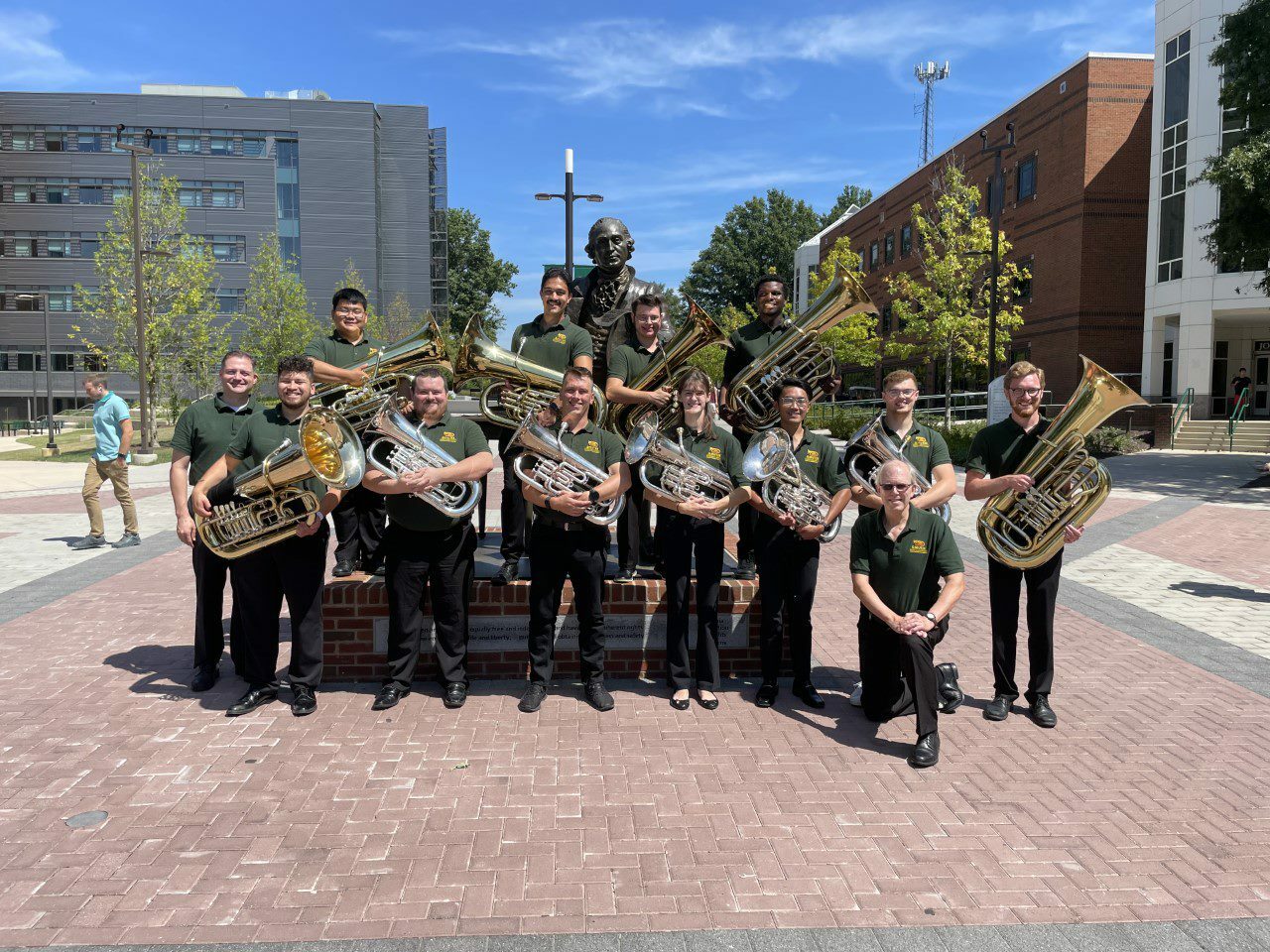 The George Mason University Tuba and Euphonium Ensemble has been in existence for over 15 years. It draws from a diversified student population of music majors, music minors, and non-majors. They have performed at four regional conferences, and six international conferences as well as appearances on and off the local GMU campus. They were recently recognized by composer Kevin Day on his piece "Ignition" as his group of choice for their exhilarating video of the music. The group remains as a front runner of the low brass department for recruiting students to enjoy and play chamber music and is led by GMU Adjunct Tuba Professors Dr. David Porter and Dr. Mark Jenkins.
We are always interested in speaking with prospective music students. GMU has a wide variety of music degrees that can be tailored to fit each student's needs. Please talk with one of us or email Emily Craine at ecraine@gmu.edu.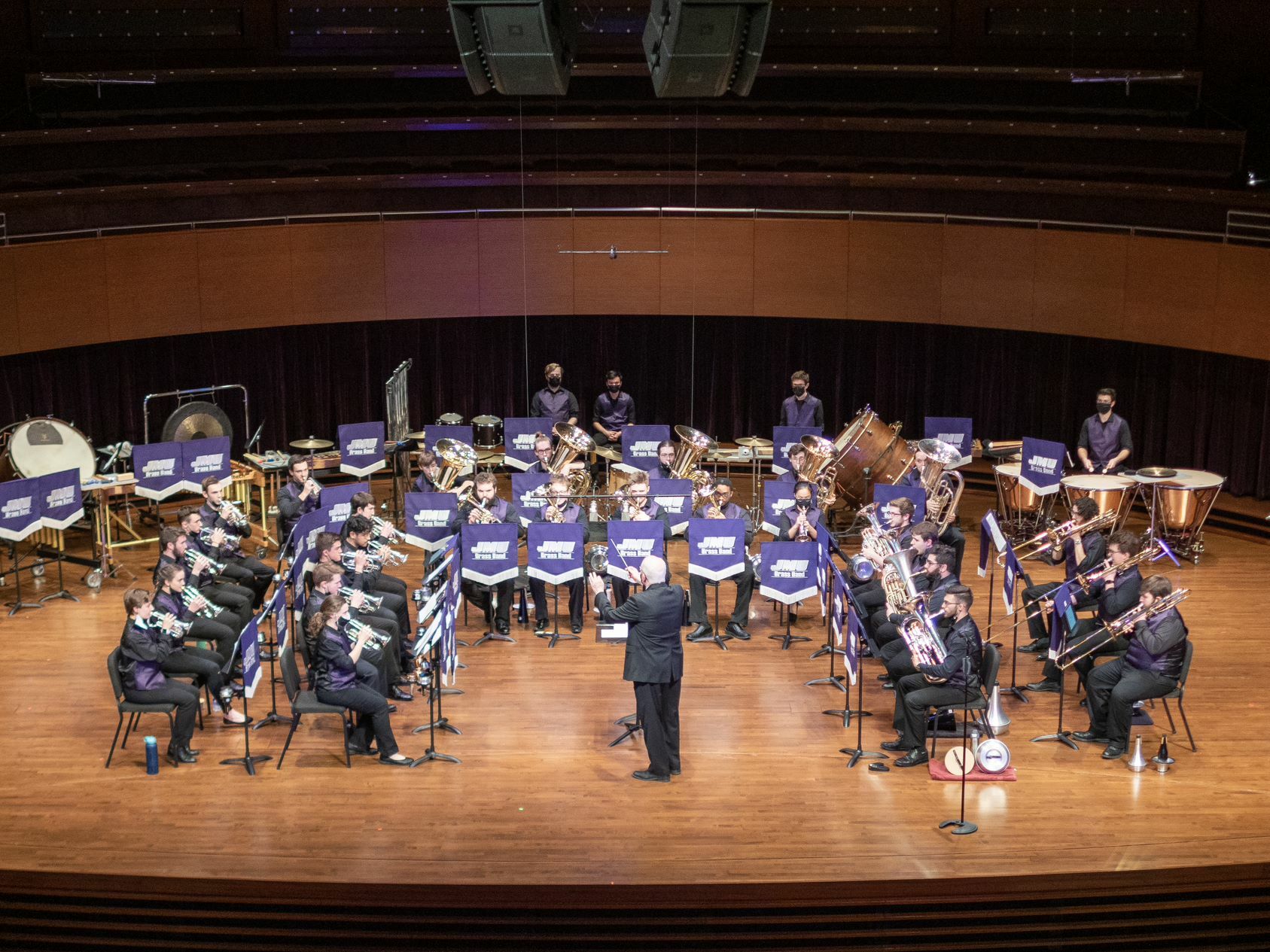 Under the direction of Professor Kevin Stees, the JMU Brass Band is one of the most successful collegiate brass bands in the world today. Formed by Stees in the Fall of 2000, the band was named the North American Brass Band Association 1st Section Champion in 2004 and 2005, and was the 2006, 2007, 2010, 2016, 2019 and 2022 NABBA Championship Section Runner-up. The group maintains an active schedule, performing regularly throughout the academic year, and has been a featured ensemble at numerous festivals and conferences including the American Trombone Workshop; Virginia Music Educators Conference; Great American Brass Band Festival; U.S. Army Tuba Euphonium Workshop and the Southeast Regional Tuba Euphonium Conference. In the summer of 2008, the ensemble embarked on a concert tour of England and Wales sharing the stage with many outstanding bands including the No. 1 ranked brass band, Cory Band. In 2009, the group became the first brass band to perform a full length concert at the John F. Kennedy Center for the Performing Arts in Washington, D.C. In 2012, the band traveled to Linz, Austria to perform as a featured ensemble at the International Tuba Euphonium Conference. Always interested in showcasing new repertoire, the band has given the North American premiere of over a dozen major works for brass band. The band performed as a featured ensemble at the 2017 Royal Northern College of Music Brass Band Festival in Manchester, England and just recently competed in the 2022 World Music Contest (WMC) in Kerkrade, The Netherlands. The JMU Brass Band is currently ranked in the top 100 brass bands worldwide.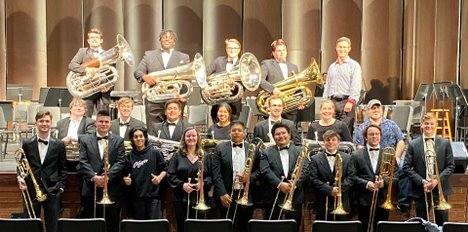 The UNG Low Brass Collective performs 10-14 concerts each year and is made up of both music majors and recreational players. The group has appeared extensively around the UNG campus (Starlight Festival, OcTUBAfest series, Tuba Christmas, Spring Euphoria event, and lunchtime concerts. The group has also performed at the US Army Tuba Euphonium Workshop in Washington DC, Georgia Music Educators Conference in Athens, GA, the MidAtlantic Regional Tuba Euphonium Conference in Greensboro, NC, the Georgia District 14 Honor Band Clinic, and the Southeast Regional tuba Euphonium Conference at Kennesaw State.
Our guest speakers and performers with the group have included James Gourlay (Scotland), Mark Jenkins (US Marine Band), Adam Lessard (US Army Band), Oystein Baadsvik (Norway), Patricio Cosentino (Argentina), Musicians from the Charlotte Symphony, the Israel Tuba Duo, Albert Khattar (Brazil), Tom Holtz (US Marine Band), Larry Isaacson (Berklee College of Music), Michael Milnarik (Innovanta Brass), and many more.
The UNG LBC welcomes all low brass instrumentalists and appreciates the variety of timbres, sounds, and colors that the different conical and cylindrical instruments can produce.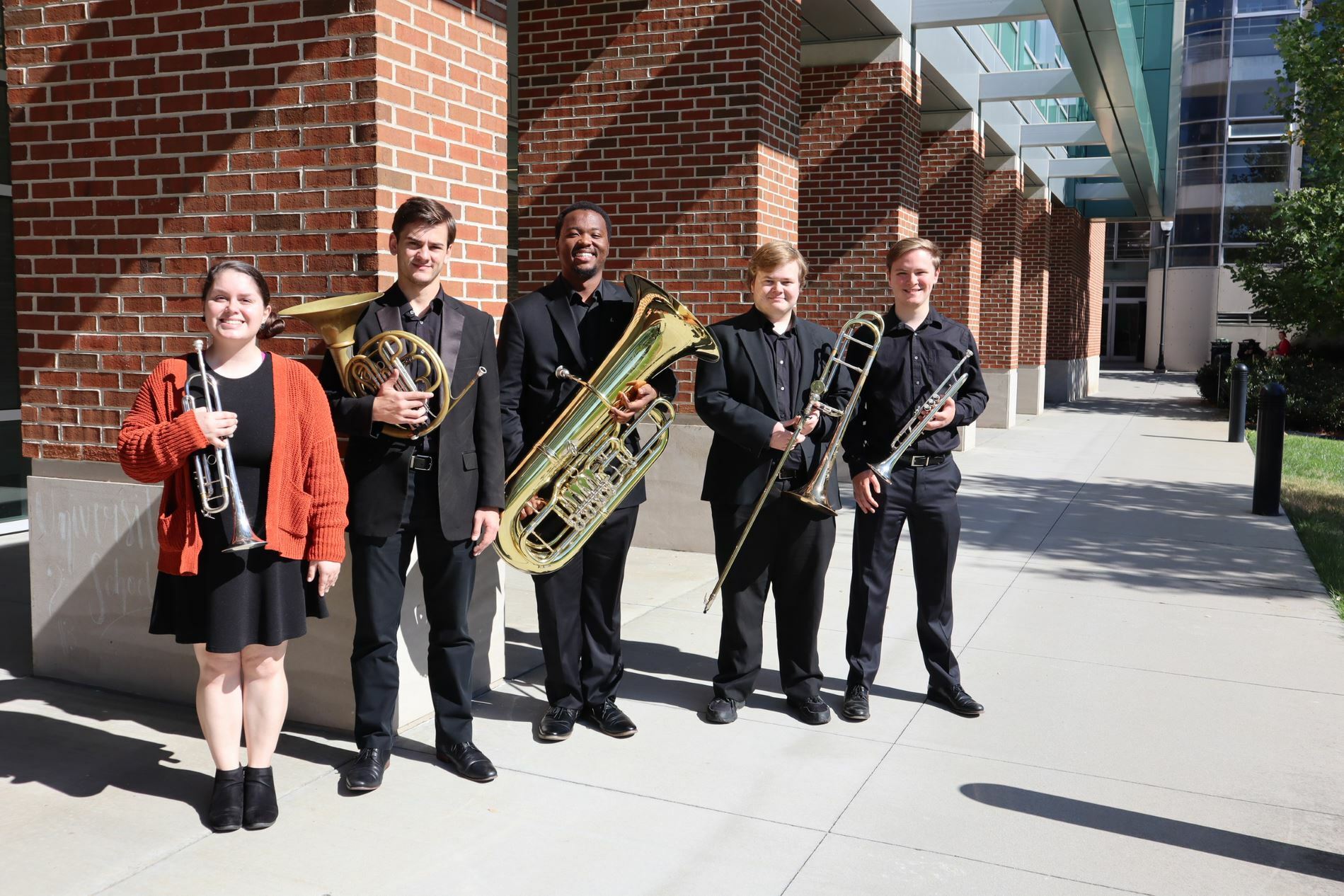 The Volunteer Brass Quintet is the honors brass quintet at the University of Tennessee-Knoxville. This ensemble performs regularly on and off campus, and visits many high school programs. The VBQ is coached, in rotation, by the brass faculty at UTK, and is being coached by Alexander Lapins for the 2022/2023 academic year.
Lexy Kilgore, from Ooltewah, TN, has been playing trumpet for twelve years. She is currently the graduate teaching assistant for the trumpet studio at the University of Tennessee, Knoxville, where she is in her first year of the Masters of Music program. She has played with various groups in her university, as well as the Sewanee Faculty Brass Quintet, Interharmony International Music Festival, and Appalachia: A Southeastern Wind Symphony. Her career goals are to become a college studio professor as well as create her own chamber and solo music opportunities.
Norfolk, Virginia native Nathan Coffman is a senior at the University of Tennessee. He has performed in a variety of settings during his collegiate career, including appearances with the Knoxville Symphony, University of Tennessee Symphony Orchestra, Volunteer Brass Quintet, Chautauqua Music School Festival Orchestra, and the University of Tennessee Wind Ensemble. Mr. Coffman hopes to one day have a career with a military band or professional orchestra.
Hailing from Easley, South Carolina, James Roddy is a current second year master's student studying music performance under Dr. Katie Johnson. He is the Graduate Teaching Assistant for the Horn studio performing various duties including his first passion, teaching. His passion for teaching led him to graduate from Western Carolina University with a degree in Music Education. James is an avid performer and teacher being featured with groups such as the
Knoxville Symphony, Asheville Symphony, Hendersonville Symphony, Boston Crusaders Drum and Bugle Corps, Tuscola High School Bands, and Clover High School Bands. His career goals are to blend his two passions for teaching and performing in as many ways possible.
Hugh Lindsay is currently a second-year master's student at the University of Tennessee, where he studies trombone performance and serves as the Graduate Teaching Assistant for the trombone studio under Dr. Alex van Duuren. He is an avid performer of various styles and has performed with groups such as the Knoxville Jazz Orchestra, Brevard Philharmonic, DiMartino-Osland Jazz Orchestra, and Tito Puente Jr.'s Latin Jazz Band. Hugh hopes to explore any and all musical genres as possible in his future career as a trombonist. A native of Louisville, Kentucky, he is a graduate of the University of Kentucky in Lexington, KY.
Anderson Johnson is a first-year graduate teaching assistant for the Tuba/Euphonium studio at the University of Tennessee. An avid chamber musician, Johnson hopes to further develop his chamber, orchestral, and solo careers while maintaining a strong background in education. A Dayton, OH, native, Johnson is a graduate (BM, Music Education, '22) of Bowling Green State University in Bowling Green, OH, and has studied with David Saltzman and Alexander Lapins. Anderson Johnson is an Eastman Music Company Emerging Artist.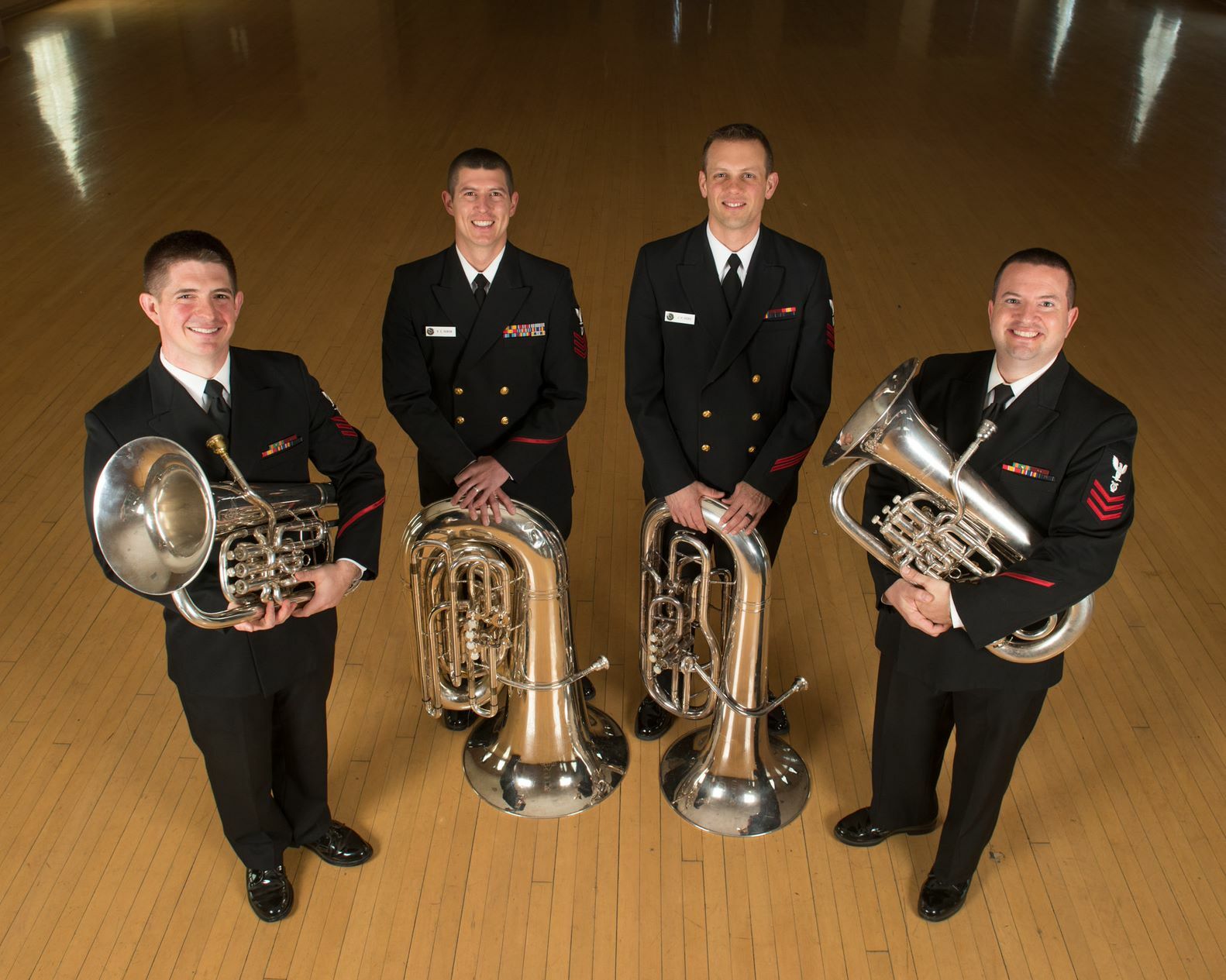 The Navy Band Tuba/Euphonium Quartet is internationally recognized as a driving force in low brass music and one of the premier ensembles of its kind. Formed in 1985, this unique group has thrilled audiences with arrangements of popular melodies and classical transcriptions.
The quartet has been featured in recitals, clinics and at conferences at Brigham Young University, the International Tuba-Euphonium Conference at the University of Texas in Austin, at the Colonial Tuba-Euphonium Institute in Indiana, Pa., and the University of Minnesota in Minneapolis. They have also performed in Sapporo, Japan and Stockholm, Sweden.
In reference to their performance at the International Tuba-Euphonium Conference at the University of Kentucky in Lexington in May 1992, the TUBA Journal stated "the USNBTEQ is varied musically, individually and instrumentally (euphonium, E-flat and CC tuba), and they ended a morning recital with an enthusiastic package that kept the audience enthralled and asking for more."
The quartet often appears as part of the Navy Band's Music in the Schools program, offering performances in elementary and secondary schools that are both entertaining and educational.
Directed by Chief Musician Philip J. Eberly, euphonium, the quartet also includes Chief Musician James H. Hicks, tuba, Chief Musician Bryce A. Edwards, euphonium, and are joined today by Musician First Class John Mangonon, tuba.