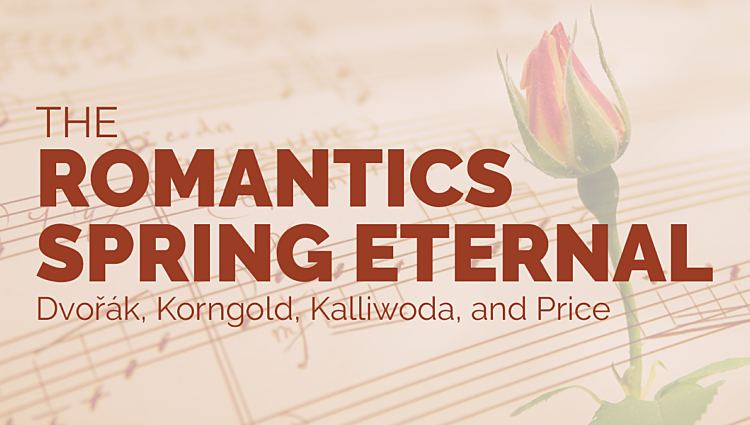 The Romantics Spring Eternal
The U.S. Army Orchestra
Romantic symphonic masterworks featuring Dvorak's New World Symphony (Mvt. 3&4). 2023 Young Artist Competition winners Jessica Zhu and Kyle Cho will join the orchestra for Korngold's lush violin concerto and Kalliwoda's virtuosic oboe concertino.
Fri / May 19 / 7:30 pm
This event requires Registration
This performance is free and open to the public, but registration or tickets are required.
Get Tickets
Location
Schlesinger Concert Hall and Arts Center | Alexandria, VA
4915 Netherton Dr, Alexandria, VA 22302
About this Venue
(May include COVID-19 information)
Program
Symphony No. 1 / Price
I. Allegro ma non troppo
Oboe Concertino in F, Op. 110 / Kalliwoda
Violin Concerto in D major, Op. 35 / Korngold
Symphony No. 9 in E minor, Op. 95 (From the New World) / Dvořák
III. Molto vivace
IV. Allegro con fuoco
Extras
Program Notes

____________________________
Symphony No. 1/ Price

1. Allegro ma non troppo

Florence Price's (1887-1953) First Symphony was composed in the early 1930s and premiered by the Chicago Symphony Orchestra in 1933, making her the first Black woman to have a composition performed by a major American orchestra.

The first movement of the symphony opens with a brooding and mysterious introduction that sets the tone for the entire work. The main theme, a melody that is at once majestic and haunting, is developed and transformed throughout the movement, taking on new colors and moods as it is passed between different sections of the orchestra. The movement's central section is a lively scherzo, featuring playful rhythms and sparkling melodies. This is followed by a return of the main theme, now transformed into a triumphant finale that brings the movement to a rousing close.

Throughout the movement, Price's use of orchestral color and texture is particularly striking. She often employs lush harmonies and intricate counterpoint, creating a sense of depth and complexity within a clear formal structure. This combination of emotional depth and technical skill makes Price's First Symphony a powerful and enduring work of American orchestral music.

____________________________
Oboe Concertino in F, Op. 110 / Kalliwoda


Johann Wenzel Kalliwoda (1801-1866) was a Czech composer and conductor of German descent. He was highly regarded in his time for his symphonies, chamber music, and operas, and was considered one of the leading figures of the Romantic era.

The first movement of Oboe Concertino in F major, Op. 110, is a lively and playful Allegro vivace. It opens with a bright and cheerful melody played by the orchestra, which the solo oboe then develops in a virtuosic display of agility and skill showcasing the instrument's technical capabilities right from the start. The oboe and orchestra engage in a lively dialogue, with the soloist performing fast and intricate passages while the orchestra responds with full-bodied chords and sweeping melodies.

Throughout the movement, Kalliwoda uses dynamic contrasts to great effect, alternating between quiet, introspective moments and bold, exuberant passages. The oboe and orchestra work together to create a sense of playful energy with the soloist leading the way with dazzling displays of virtuosity. The first movement of Kalliwoda's Oboe Concertino is a delightful showcase of the oboe's technical and expressive capabilities.

____________________________
Violin Concerto in D major, Op. 35 / Korngold


Erich Wolfgang Korngold's (1897-1957) Violin Concerto op. 35, was completed in 1945 and is widely regarded as one of the most romantic and virtuosic violin concertos of the 20th century. The first movement is marked Moderato nobile and begins with a lush and sweeping orchestral introduction, setting the stage for the entrance of the solo violin. The solo violin's entrance is accompanied by a delicate and lyrical melody, which is then developed and expanded upon by the soloist. The orchestra then plays the theme, leading to a powerful and dramatic climax featuring a virtuosic cadenza from the solo violin. The movement ends with a return to the opening theme, this time played by the soloist in a more ornate and elaborate variation.

Korngold's Violin Concerto is notable for its use of lush melodies, intricate harmonies, and virtuosic writing for the solo violin. The first movement is a showcase for the soloist, who must navigate a wide range of emotions and technical challenges throughout the movement. Korngold's use of orchestration is particularly impressive, with the orchestra providing a rich and colorful backdrop for the soloist's virtuosity.

The combination of soaring melodies and virtuosic writing for the solo violin ensures its place in the violin concerto repertoire.

____________________________
Symphony No. 9 in E minor, Op. 95 (From the New World) / Dvořák


III. Molta vivace

IV. Allegro con fuoco

Antonín Dvořák's (1841-1904) Symphony No. 9 in E minor, Op. 95, known as the "New World Symphony," composed in 1893 during Dvořák's stay in America, is a testament to his interest in American folk music and his own Bohemian roots.


The third movement of the New World Symphony is a scherzo in 3/4 time. A dance-like movement, marked "Molto vivace", or very lively, is full of energy and momentum, with the strings and woodwinds bouncing playful melodies off of each other. The trio section of the movement, marked "Poco meno mosso" (a little less motion), contrasts with a gentler, more lyrical melody in the oboe and clarinet.

The fourth movement of the New World Symphony is marked "Allegro con fuoco," or fast and fiery. This movement displays the orchestra's virtuosity, with thunderous brass fanfares and soaring melodies in the strings and woodwinds. The movement features a call-and-response structure between the different sections of the orchestra, with the brass and strings trading off melodies and rhythms. The climax of the movement features a horn solo, accompanied by the full orchestra, before the music's triumphant conclusion.

Dvorak's New World Symphony was written during the composer's time in America, where he lived and worked from 1892 to 1895. During his time in America, Dvorak became interested in the music of indigenous cultures, as well as African American spirituals and folk music. This interest in American music is reflected in his "New World Symphony," which features melodies and rhythms inspired by traditional American music, as well as Native American and African American music. The work has become a staple of the orchestral repertoire and a testament to the rich cultural heritage of America.
Get to know our winners!

Kyle Cho is a sophomore at Winston Churchill High School in Potomac, MD. He attends the Juilliard Pre-college in New York City and takes lessons with Elaine Douvas, Principal Oboe of the MET Opera. Kyle is a member of the Juilliard Pre-College Symphony and also plays in the Wind Symphony at Winston Churchill High School. In 2022, he played as co-principal oboist in the MCYO Symphony Orchestra and as principal oboist in the World Youth Wind Symphony at the Interlochen Summer Arts Camp. He has been selected for a full-tuition scholarship at Interlochen twice, including this coming summer.

Kyle has won the Marine Band Concerto Competition and was a finalist in the Navy Band's Young Artist Solo Competition in 2023. He has also been awarded top prizes in numerous competitions, such as the Bellagrande International Competition, YMIC International Competition, the AAMS, and the Young Artist Award. In 2021, he performed at Carnegie Hall (Weill Recital Hall) in the YMIC Global Competition Winners' Concert.



In addition to the oboe, Kyle has been studying piano under the tutelage of Dr. Jeongseon Choi for 8 years. He has won several awards in competitions, including the MSMTA Gottlieb Piano Competition (1st place in piano), MSMTA Piano Solo Festival (1st place in piano), YMIC Metropolitan Music Festival (1st place in piano), and MCMTA Piano Festival (2022 Platinum winner). He also performed Mozart piano concerto No. 20 with the Londontowne Symphony Orchestra in March 2022.
When he's not making music, Kyle enjoys refining his Taekwondo skills and has attained the rank of master (4th dan black belt).

Jessica Zhu is a senior at Thomas Sprigg Wootton High School. She began studying violin at the age of seven with Mr. Jorge Orozco and has been a member of Maryland Classic Youth Orchestras since 2014, most recently serving as co-concertmaster in MCYO's Philharmonic. She was a finalist in the Landon School Concerto Competition in 2020 and 2021 and was also awarded second prize in the 2022 National Chamber Ensemble Young Artist Competition. She has been honored to study with violinists Klaudia Szlachta at the Boston University Tanglewood Institute Violin Workshop, Stefan Jackiw at Sounding Point Academy, and Roberto Valdes at Douro Strings Academy in Vila Real, Portugal.

An avid ensemble musician, Jessica also plays violin in the Young Artists of America Orchestra, her school's chamber orchestra, and La Vida String Quartet coached by Ms. Claudia Chudacoff. La Vida was awarded second prize in the 2022 Misbin Family Memorial Chamber Music Competition, Grand Prize in the 2022 Young Musicians Inspiring Change International Competition, and also competed in the live rounds of the 2023 Saint Paul String Quartet Competition and 2023 Fischoff National Chamber Music Competition. They performed the first movement of Smetana's String Quartet No. 1, "From My Life" at Carnegie Hall's Weill Recital Hall in October 2022 and participated in masterclasses with Cuarteto Latinoamericano and the Parker Quartet.

Jessica is also a volunteer with the Tacy Foundation, performing at local assisted living facilities and hospitals, including the Clinical Center at the National Institutes of Health. Outside of music, she enjoys visiting arbitrary state parks and struggling with spatial reasoning puzzles with her family.
Participants in the 18th Annual Army Orchestra Young Artist Competition

Violin I
Jessica Zhu**
Enzo Baldanza
Melody Qian
Whitney Bruch
Emily Shi
Lindsey Lee
Kerri Elizabeth Robinson

Violin II
David Wang
Zeyuan Zhao
Stephanie Dragoi
Oliver Malkin
Faith Zhang
Catherine Chong

Viola
Katie Hwang*
Emma Zou
Andy Cui
Alvin Lee
John Ross
Rosemary Sellers
Eleanor Meehan

Cello
Joshua Fan
Caleb Fan
Joseph Hsieh
Valerie Lai
Daniel Lee

Flute
David Seol*
Joanne Fan

Oboe
Kyle Cho**

Clarinet
Tyler Anderson
Angela Shen

Bassoon
Justin Ma

Trumpet
Tehya Shapiro

Trombone
Hyun June Cho*

* Finalist
​** Competition winner
The U.S. Army Orchestra Roster

Violin 1
SFC Sergey Prokofyev, Concertmaster
MSG Matthew Evans
SSG Jordan Hendy
SFC Judy Cho
MSG Annette Barger
SSG Lisa Park

Violin 2
SFC Robert Martin, Principal
SSG Patrick Lin
SFC Catherine Gerhiser
SGM Marlisa Woods
SSG Charles Gleason

Viola
SSG Rebecca Barnett, Principal
SSG Erica Schwartz
MSG Beth Walenta
SSG Austin Simmons

Cello
SFC Hrant Parsamian, Principal
SSG Aaron Ludwig
SSG James Hettinga
MSG Benjamin Wensel

Bass
SGM Thomas Fowler, Principal
MSG Eric Seay

Flute
SFC Elizabeth McGinness
SFC Carol Joe Inglis

Piccolo
MSG Megan Lomonof

Oboe
SSG Audrey Yu
MSG Meredeth Rouse

Clarinet
SSG Kenji Bellavigna
SSG Rucha Trivedi

Bass Clarinet
SSG Davis Hampton

Bassoon
SFC Patricia Morgan
SSG Thomas Reynolds

Horn
SGM Robert Craven
MSG Shawn Hagen
SFC Christy Klenke
SSG Patrick Furlo
SSG Jacob Wiggins

Trumpet
SFC Erik J. Ramos
SFC Drew Fremder

Trombone
MSG Samuel Woodhead
SFC Adam McColley
SSG Kyle Gordon

Tuba
SFC David Kirven

Percussion
SFC Jake Harpster
SSG Timothy Perry

Timpani
SSG Jonathan Milke

Harp
SFC Nadia Pessoa

Celeste
MSG Daniel Roberts