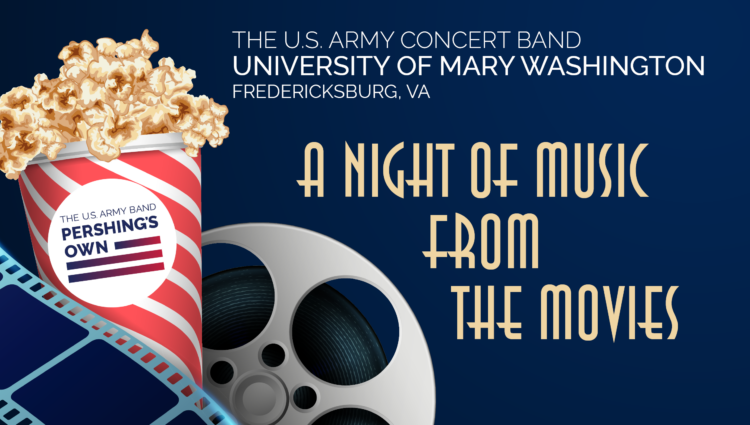 A Night of Music from the Movies
The U.S. Army Concert Band
The Concert Band returns to Mary Washington for an evening of epic movie scores. Whether you're a cinephile or a music lover, this concert promises an evening of pure enchantment that will stay with you long after the final notes have faded away.
Fri / Oct 20 / 7:30 pm
This event requires Registration
This performance is free and open to the public, but registration or tickets are required.
Get Tickets
Location
Dodd Auditorium | Fredericksburg, VA
1301 College Ave, Fredericksburg, VA 22401
Program
Main Title from "Star Wars" / Williams, arr. Bulla
National Anthem / Smith, lyrics Key, arr. Smith and Kirby
Themes from "Silverado" / Broughton, arr. Bass
Gabriel's Oboe from "The Mission" / Morricone, arr. Longfield
Main On End from "Avengers: End Game" / Silvestri, arr. LaRosa
Halloween/Horror Movie Medley / arr. SSG Kosinski
Haunted Mansion / arr. SSG Tedrow
Raiders March from "Indiana Jones" / Williams    
Suite from "Top Gun: Maverick" / Zimmer and Faltermeyer, arr. SFC Corry
Teddy at the Throttle / arr. Murtha          
Armed Forces Salute / Various    
Adventures On Earth from "E.T. the Extra-Terrestrial" / Williams, arr. Lavender