The U.S. Army Band Downrange
Commercial Keyboard Player/Arranger
Apply before: November 20, 2023
Audition date(s): January 22, 2024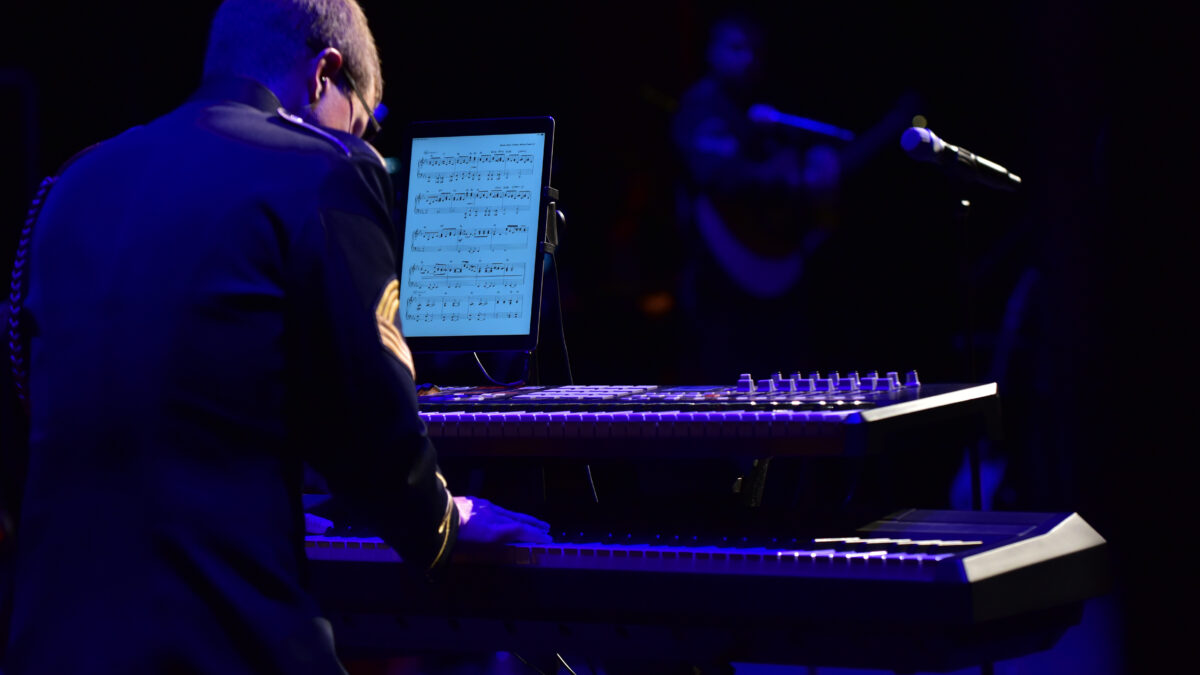 The United States Army Band "Pershing's Own" announces a vacancy for COMMERCIAL PIANIST / KEYBOARD PLAYER / ARRANGER with the Army's premier musical organization, located 5 minutes from downtown Washington, DC.
Downrange, a dynamic element of the world-renowned United States Army Band "Pershing's Own", is a talented 6-piece rhythm section (2 guitars, 2 keyboards, bass and drums) and a group of four vocalists that perform a variety of popular music and current hits including Rock, Pop, Funk, R&B and today's Country. Members of this exciting group enjoy sharing their talents in and around the Washington, DC area, performing at a variety of public venues and supporting top military leadership at the Pentagon, the State Department, and the White House.
Main duties will include rehearsals and performances with The U.S. Army Band Downrange. Additional duties include arranging charts of songs from commercial music genres for the band to play, performing solo or with a combo as well as performing with other elements of The United States Army Band.
Military benefits include medical and dental care; 30-days paid vacation each year; permanent assignment to Fort Myer, and educational benefits such as military Tuition Assistance and the Forever G.I. Bill. Annual starting salary for Staff Sergeant is $66,899 without dependents; $74,207 with dependents.
Audition Information
Auditions will be held at Brucker Hall, home of The United States Army Band "Pershing's Own," located at 400 McNair Road, Fort Myer, Virginia 22211-1306. 
Travel expenses for civilians will be paid for by The U.S. Army pending enlistment qualification and funding approval. Military personnel should refer to their respective units to request travel funding. The audition will include the performance of prepared excerpts and sight-reading.
All applicants must have U.S. citizenship due to a security clearance requirement. All invited applicants will be given instructions to coordinate pre-screening with their regional Military Entrance Processing Station to ensure they meet entrance requirements for enlistment in The U.S. Army prior to attending the live audition. Individuals who are offered the position following the live audition must enlist and begin Basic Combat Training prior to their 35th birthday. 
Applicants must demonstrate strong, versatile abilities in the following areas: 
- Keyboard skills, to include piano, organ, synth, etc, in all commercial music genres 
- Creation of well-formatted charts with the use of software (Sibelius, Finale, Dorico, etc.) that are functional while demonstrating creativity, written for a band featuring vocals, rhythm section and horns 
- Strong knowledge of straight-ahead jazz styles; ability to play jazz in a small combo or solo; ability to successfully run a jazz gig. 
The following skills will be considered plusses, but are not essential: 
- Ability to fluently read intermediate grade classical piano music; general knowledge of markings and terms associated with classical music 
- Fluency with instruments other than piano/keyboard 
- Facility with recording software such as Pro Tools, Logic Pro, Ableton, etc. 
- Ability to shoot and/or edit professional grade video 
- Ability to sing lead or backing vocals; knowledge of commercial vocal stylings
To Apply for the Vacancy Please Submit the Following Items
1. Short resume, including email address 
2. An arrangement of a song in a commercial music genre (pop, rock, R&B, country) for lead vocal, backing vocals, rhythm section (guitar, keys, bass, drums) and horn section (preferred number of horns between three and six). Please include score and parts. 
3. Recordings of the following: 
- "Isn't She Lovely," by Stevie Wonder, performed solo piano 
- A straight-ahead jazz piece, either in a small combo or solo, that demonstrates general fluency with jazz language and improvisation 
- A piece in one of the following genres: pop, rock, R&B, or country. Must demonstrate facility with organ and synth. Two separate recordings can be submitted for organ and synth if necessary. 
- Another piece of the candidate's choice, if there are further attributes not demonstrated in the above selections that the candidate would like to show (optional) 
4. Military applicants must also include their Enlisted Records Brief, or equivalent, and a Commander's Letter of Intent to Release.
Please email application materials to Sergeant First Class Christopher Buckley.
Preferred Application File Formats
PDF files for all documents
Video recordings should be uploaded to YouTube using 'unlisted' links
Each selection should be uploaded as a separate video file
Either submit the unlisted link to each video, or the link to your full playlist containing all videos.
Ideally, email all documents as attachments in PDF format and then include the link to the video files
no ZIP files
Please email application materials to Sergeant First Class Christopher Buckley.
Contact an Auditions Coordinator
Applicants with any questions or concerns regarding the COMMERCIAL PIANIST / KEYBOARD PLAYER / ARRANGER audition may contact Sergeant First Class Christopher Buckley.
Benefits
Compensation
The annual starting salary for Staff Sergeant equates to $73,000 without dependents and $78,000 with dependents
Healthcare
Full medical and dental coverage
Paid Leave
30 days paid vacation annually
Retirement
The Blended Retirement System allows you to immediately begin contributing to a retirement account, in addition to being eligible for a pension after 20 years of active duty service.
Education
Earn full tuition for higher education through the Post 9/11 GI Bill. Also, tuition assistance is available for continuing education.
Military Rank
Members of "Pershing's Own" are given the Military Occupational Specialty (MOS) of 42S (forty two sierra), "Special Band Musician". Personnel are promoted to the rank of Staff Sergeant (E-6) two months after completion of Basic Combat Training.
Location
Permanent duty assignment to Fort Myer, VA, located near the heart of Washington, DC
Learn More About Army Benefits
Eligibility
The U.S. Army Band's audition and hiring process values diversity, equity, and inclusion.
All applicants must currently hold U.S. Citizenship
Civilian applicants must be 34 years of age or younger at the time of the audition
All applicants must meet the standard requirements for enlistment in the United States Army